Certified translation
What to do when you need birth certificate translation for USCIS
September 18, 2017
|
|
This post was last updated on June 14th, 2019 at 01:48 am
(Last Updated On: June 14, 2019)
A birth certificate is a vital document required for various immigration related processes and if yours is not in English you'll need birth certificate translation for USCIS. These processes may include petitions or applications to get a green card, sponsor relatives on green card matters, sponsor parents' visitor visa, and others.
The United States Citizenship and Immigration Services (USCIS) normally require a translated copy of a birth certificate which is originally presented in a language other than English. Only original copies and/or photocopies of the original or extracted birth certificate issued from your place of birth are acceptable. Certificates of birth issued by your country's consulate or embassy are not acceptable.
Where to get a birth certificate translation for USCIS
Birth Certificates have to be translated if you are traveling with a child. Not only do we require a birth certificate but these days it is also prudent to have a child's passport ready before you travel. This is because immigration rules have become much tougher as the world is dealing with terrorism in all corners and trying to prevent such incidents.
Before it used to be that a child could travel freely without any form of travel documents needed. But those days are long gone. Now children not only need to have their birth certificates made but they also need to have these certificates translated and properly notarized before they are submitted to the immigration office for inspection. This way the documents are thoroughly vetted and verified in a way that is suitable for the United States customs and immigration services would require you to get them done.
In cases where there's a need for a birth certificate translation for USCIS, a professional translator or anyone who is fluent in both languages can do the job as soon as the translation is being accompanied by the certification. However, the petitioner or beneficiary cannot do the translation themselves, as it won't be acceptable.
Moreover, a translated birth certificate must bear the translator's signature at the end, stating and certifying that the translation is complete and accurate. A birth certificate translation for USCIS doesn't have to be notarized, it just have to be certified.
More tips on birth certificate translation for USCIS
Know and consider the following insights whenever you need to have a birth certificate translated for immigration purposes.
Always provide the English translations of birth certificates and/or any other document, which are not written or presented in English.
Translation must be done word for word, entirely and directly, and must include signatures, stamps, seals, dashes, etc. If there is something unclear from the original document, the translator can put "not legible" accordingly.
The translation of parts of the original document, like stamps or seals for instance, must appear exactly like in the format of the actual copy.
Hiring a professional translator or a certified translation service to do the job is not necessary. Anyone fluent in both the English and the other language, except the petitioner and beneficiary, can translate the document and certify it to be completely and accurately translated. However, getting the translation from a translation company which deals with such things every day is recommended as no errors will occur and the translation will be accepted by USCIS.
Even if the petitioner and beneficiary are not allowed to translate their own documents, ensuring the correctness and accuracy of the translation is their responsibility. Otherwise, they will have to deal with rejection or delayed processing.
If a birth certificate translation for USCIS is required, notarization is not necessary. If it is submitted for institutions outside the US, like the Consulate or Embassy, it needs to be notarized.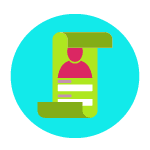 Birth certificate translation for green card
Dreams are what define us because without them we would just be lifeless people trying to follow our 9-5 routine with no spirit. But not everyone has the strength to pursue those dreams. Many give up half way when they see the struggles they will have to go through to achieve them. While many never even try. But those who do go down that path of greatness are the ones who deserve to achieve everything they wish for. When the dream is just within their grasp, they don't back away because of a little difficulty. Instead, they find the solution and get their dream.
For many, the thing they have been chasing all their lives is to move to a better country and America is that country for a lot of them. The thought of breathing the free air where they are not restricted by any discriminating laws is what keeps them going. But they need their birth certificate translation for a green card. Some people make the mistake of trying to do this translation themselves and as a result, they have to wait longer for that green card. We will do green card birth certificate translation at affordable rates for you so you can improve your life sooner rather than later.
We can help you!
So we, USA Translate, are here with all the details that you will need to understand on how to get the birth certificate of the baby in your care processed through United States Immigration office. We have been dealing with these cases for a long while now and understand how these documents are handled and what you should keep in mind.
We are here to help you realize your dream of becoming a United States citizen or resident with your entire family and that also includes infants. These processes are simple and well cut out if you know how to handle them. They are a significant improvement on earlier days when a child's travel was a wayward matter that was handled by every country differently.
Now, most nations are gathering around unified methods as it also gives parents a strong incentive to register their infant into the system and help build his citizen profile from the beginning.