(Last Updated On: December 15, 2021)
What is Pupusa?
If you're a foodie and love to explore different food, then you might have already heard of pupusa; if not, not a big problem! We are here to discuss this amazing dish, but wait why are we discussing it? Well, a pupusa is a national dish and it has a special day to celebrate it, interesting right? Surely it is!
Pupusa is a beloved Salvadoran dish, which is made of some corn tortillas and stuffed with a savory filling. Mix together some masa flour, salt, and water to prepare the dough, then add the savory filling according to your taste- options include beans, cheese, pork, or beef. These masa cakes are aesthetic Salvadoran street food and a great choice when entertaining guests. Curdtío, a fermented cabbage relish, is typically used to serve pupusas. It contains carrots, onions, spices (such as cumin), and garlic.
Did you know that Leonardo Dicaprio told in an interview that "this Salvadoran dish from El Salvador was one of the best dishes he's ever tasted? Even better than tacos!"
Pupusa has been crossing borders around the world for years, making them one of the most popular Latin American dishes. In this write-up, we'll discuss what exactly are pupusas? What's their history? Where to find them? Other than that you are going to get a yummy step-by-step recipe for homemade goodness as well. So, keep reading because you are going to love it for sure!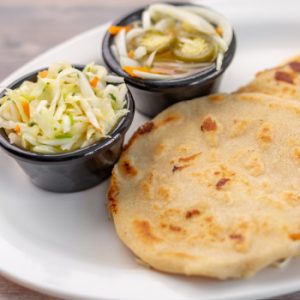 WHAT IS A PUPUSA?
Pupusas can be made using either Masa Harina (cornmeal flour) or rice flour mixed with water to prepare dough which then gets cooked into shape. They usually have delicious stuff fillings such as refried beans, shredded pork, or cheese. Since they're usually so rich and cheesy, people often top them with a pickle salad that adds an extra bit of freshness and brightness to balance things out. It's curtido.
WHAT IS THE HISTORY AND ORIGIN OF PUPUSA?
Well, the word "Pupusa" was derived from the word "pupusawa", which means "to puff up". Pupusa has some kind of connection with the Pipil tribes who inhabited the territory of El Salvador. The name "pupusa" comes from the Nahuatl language, which was once spoken in El Salvador. It means "large, stuffed, thick handmade tortilla made from rice or corn dough."
As far as we know, there isn't an exact person who created the pupusa; rather, they're considered a culinary phenomenon. People believe that it has origin somewhere between Mexico and Costa Rica, in the Mesoamerican region- a region rich in corn culture!
However, this is just an assumption people made, based on the similarity that appears in the dishes of nearby countries, such as the "arepas" in Colombia and Venezula as well as "gorditas" in Mexico.
In contrast, a recent publication by the National Museum of Anthropology states that pupusas were an important part of the diet of Quiche settlers who migrated into northern El Salvador during the early 19th century. So, pupusa has some kind of controversial history, as no one exactly knows its creator!
HOW TO MAKE PUPUSAS?
Here comes the most interesting part, this is what you were waiting for right? The delicious pupusa recipe.
INGREDIENTS
Vegetable oil
Medium white onion
Central American red beans or red kidney beans
Kosher salt
Corn masa flour
Grated queso Oaxaca or salted mozzarella
Curtido (Salvadoran Cabbage Relish)
Salvadoran Salsa Roja (for serving)
DIRECTIONS
Now get your hands clean, because we are going to give to directions to make the yummiest pupusa at home:
Step 1: Heat 3-4 tablespoons oil in a skillet pan over medium to high flame. Cook the onion for 10 to 12 minutes. If you see the golden brown color, don't stop because they need to go further.
Step 2: Then transfer onion to a blender, add the bean to make a puree. If the liquid is too thick, gradually add warm water and blend until smooth.
Step 3: Heat onion oil over medium heat. Add the bean mixture into the skillet and stir until it gets thickened like Greek yogurt, then season it with salt. Let them cool so the refried beans will thicken and that's exactly what you need.
Step 4: Using a stand mixer equipped with the paddle attachment, mix three teaspoons of masa flour, salt, and 2⅔ cups of hot water on medium speed until the dough gets thick and sticky. Let it rest, uncovered for at least 15 minutes. Meanwhile, you can prepare the cheese and bean mixture in a medium bowl.
Step 6: Put some oil and warm water in a bowl and dip your hands in it, rub them together to coat. This step will prevent the dough from sticking to your hands and will hydrate the dough as well.
Step 7: Divide the dough into small balls. Don't forget to keep them covered with a damp towel, in order to prevent them from drying. Put one ball into the palm of your hand; then using the tip of your index finger from the opposite hand, press down firmly at the middle of the ball's surface. Then pinch the sides and create a well to put the filling. Fill it with 2 tablespoons of bean mixture. Press the dough to enclose, and then flatten it like a disk, dip your hands in the oil-water mixture if needed. Repeat the process to make the remaining balls.
Step 8: Time to cook them. Cook them in Griddle or a large cast-iron skillet over medium heat until center puffs up slightly. Cook the pupusa for 3-4 minutes per side. If the filling leaks, simply remove any excess from the edges by scraping them up against the side of the pan.
Step 9: Finally serve them with cabbage relish or salsa Roja and enjoy the delicious pupusas!
DIFFERENT FLAOURS OF PUPUSAS
Here are different versions of pupusas you must try to bless your taste buds:
1. Cheese Pupusa
A grated cheese like Queso Oaxaca or Salted Mozzarella makes these Pupusas a Must Have! They're delicious when mixed with sautéed onions and red kidney beans.
2. Pupusas de Frijoles 
Pupusas de frijoles are stuffed with refried beans and seasoned with ground cumin. Add this to your MUST TRY list.
3. Pupusas con Cortido 
Pupusas con Cortido are easy weeknight picks. You should just try it out.
4. Vegan Pupusas
If you are planning a vegan dinner date with your partner, vegan pupusas are a great call. All you need to do is add vegan cheese or vegan filling. You don't need meat for balance; just serve with beans!
5. Cheese Pupusas with Garlic
If you love spices, the cheese pupusa with a little chili garlic addition will be perfect for you.
CAN I FREEZE PUPUSAS?
Got over-excited? And make pupusas more than enough. Now you're worried about what to do. Well, don't worry! You can freeze to save your pupusas. Do it like this to freeze them:
Place the uncooked pupusas on a baking sheet, make sure to line it with parchment
Then put the sheet in the freezer and allow it to chill for at least 20 minutes
Transfer the pupusas to an airtight container, and freeze it!
Write the date on the container to be on the safe side!
Questions and quotes are free. Live chat with us 24/7